Loose Leaves Acupuncture & Massage

Services & Rates
Acupuncture
$25 per session
Loose Leaves is a community style acupuncture space. You simply come in, rest back in recliner, I check pulse and you get treatment and let me know when finished.
First session free for new clients then $25/ treatment or 5 treatments for $100 mix and match acupuncture, ionic foot detox and 15 min sessions. . Add a chair massage or 15 minute craniosacral to your acupuncture session for $20 (regularly $25)
Acupuncture is one of the oldest, most commonly used forms of medicine in the world. Originating in China more than 2,500 years ago, acupuncture is currently one of the most thoroughly researched, practiced, and respected forms of complementary medicine available anywhere.
According to Traditional Chinese Medicine, your overall health is determined by the quality of the Qi (energy) flow through the natural pathways of your body (meridians). Acupuncture uses a variety of techniques, including placing very thin sterile needles into specific points on the body, to stimulate and improve your Qi flow. The many benefits of acupuncture include:
Pain reduction
Stress and tension relief
Increased energy levels
Stronger digestion
Relief from bad habits and addictions
Greater sense of overall health and well-being
Treatable conditions include:
Addiction, anxiety, depression, stress, chronic fatigue, fibro, colds & flus, allergies, IBS and other digestive issues, insomnia, immune system and cancer support, health maintenance and weight loss, arthritis, whiplash, sciatic, PMS, difficulty conceiving, migraines, muskulo-skeletal issues and menopausal symptoms.
SCHEDULE ONLINE at www.schedulicity.com
Massage and Bodywork
$70 per 50 minutes
Elicia has been practicing massage since 2004 utilizing a combination of acupressure, cranial sacral and therepeutic massage techniques to meet your individual needs.
15 minute chair massage- $25 or part of 5 for $100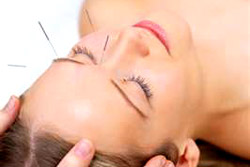 30 minutes- $40
50 minutes- $70
80 minutes- $100
May add acupuncture to 50 or 80 minute one on one session at no additional charge. Also often used are hot stones and aromatherapy. Feedback is always welcome after all it's your body!
SCHEDULE ONLINE at www.schedulicity.com
Reflexology
$40 per 1/2 hour
Reflexology is the practice of applying pressure to the feet and hands utilizing specific thumb, finger and hand techniques based on a system of zones and reflex areas that reflect an image of the body on the feet and hands with a premise that such work effects a physical change in the body.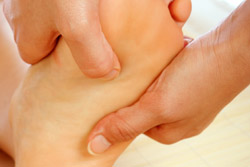 The best foot massage you have ever had!
Detoxifying Foot Bath
$25 per session
Soak with your feet in an ionizing foot bath for 30 minutes. Watch your color change from clear salt water to brown- black toxins. Finish with a minty fresh foot scrub. Total time of service 45 minutes. May be part of 5 for $100 package.
Craniosacral
$40 per 30- 45 minutes
Craniosacral therapy is a subtle/ gentle bodywork that uses very light touch to balance the craniosacral system in the body, which includes the bones, nerves, fluids, and connective tissue of the cranium, spinal area and joints. This modality if particularly good at relieving stress, anxiety-depression, fatigue, headaches or other pain. Any trauma or accident related issues also respond well. The gentleness of this work makes it safe and beneficial for children.
On site Chair Massage
$75 per hour
Have chair massage/ acupuncture for your employees, conference- goers, students, or fundraiser. Call for details and availability.